Everyone recommends to change oil at 3,000 miles, if it's possible to go farther between oil changes, why do people still adhere to 3,000-mile oil change rule?
When oil filters were introduced in the early 1920s, vehicle manufacturers recommending the 3,000 miles motor oil change. Since then, the "3000 miles oil change" became the norm for both DIY as well as auto repair & oil change shops.
As engine, lubrication and filtration technology advanced throughout the century, vehicle manufacturers began recommending increasingly longer oil-change intervals. However, quick lubes and other oil-change facilities, continued recommending 3,000-mile drain intervals, what is now known as the "3,000-mile myth". This myth is also profit driven. Shorter the drain interval, more the profits generated.
However, most vehicle manufacturers recommend much longer oil change intervals, and many feature an on-board oil life monitor that determine when the vehicle's oil should be changed. Whether you follow the recommendation in your owner's manual, oil monitoring system or an AMSOIL synthetic motor oil that lasts even longer, you're sure to drive more than 3,000 miles between oil changes without causing damage to the vehicle's engine.
Can I use AMSOIL synthetic diesel oil without voiding my vehicle's warranty?
Yes. Using AMSOIL synthetic diesel oil has no effect on vehicle warranties. A federal law called the Magnuson-Moss Act (1975) prevents original equipment manufacturers from putting conditions on vehicle warranties attached to any product or service identified by brand, trade or corporate name, unless the manufacturer provides that product or service free of charge.
This means consumers have the freedom to use aftermarket products of their choice without fear of losing the original limited or implied warranty. For additional information, visit Warranty Secure page, or contact the AMSOIL Technical Department at 715-399-8324.
Will extending oil drain intervals void my vehicle's warranty?
No. Extending oil change intervals will not void new vehicle warranties. To affect the vehicle warranty, it must be determined that the lubricant was directly responsible for the failure; if the oil didn't cause the problem, the warranty cannot be voided, regardless of brand or length of time in use. For additional information, visit Warranty Secure page, or contact the AMSOIL Technical Department at 715-399-8324.
Does AMSOIL offer diesel motor oils for engines requiring API CJ-4 specification?
Yes. AMSOIL offers 4 motor oils with API CJ-4 specification. AMSOIL Premium 5W-40 Synthetic Diesel Oil, Premium 15W-40 Synthetic Diesel Oil, OE 15W-40 Synthetic Diesel Oil and OE 10W-30 Synthetic Diesel Oil are recommended for diesel applications calling for the API CJ-4 specification.
Can I use AMSOIL CJ-4 diesel oils in older diesel engines?
Yes. AMSOIL CJ-4 oils are formulated with lower sulfur content to be compatible with 2007 and later high-speed, four-stroke diesel engines with exhaust after-treatment systems such as DPF, SCR, and they also exceed previous diesel oil specifications. They are suitable for use in older diesel engines calling for API CI-4 Plus, CI-4, CH-4, CG-4 and CF-4 oils.
However, CJ-4 oils does not offer a performance advantage over AMSOIL's heavy duty diesel oils. AMSOIL Synthetic Heavy-Duty Diesel & Marine Motor Oil SAE 15W-40 and Series 3000 Synthetic 5W-30 Heavy-Duty Diesel Oil are high performance motor oils with appropriate levels of zinc and sulphur. These two products offer the best value and performance for engines not equipped with exhaust after treatment devices such as DPF & SCR.
What are "normal" and "severe" driving conditions?
Each vehicle manufacturer defines and establishes parameters for "normal" and "severe" operating conditions for its equipment. Refer the owners manual to check these definitions to determine the service condition in which the equipment is typically operated.
AMSOIL defines normal service as personal vehicles frequently traveling greater than 10 miles (16 km) at a time and not operating under severe service as defined by the manufacturer. This applies for both gasoline and diesel powered engines.
AMSOIL defines gasoline engines that are turbo/supercharged, commercial or fleet vehicles, excessive idling, first-time use of AMSOIL synthetic motor oil in vehicles with over 100,000 miles without prior continuous use of AMSOIL synthetic motor oil, frequent towing, hauling, off-road or dusty-condition driving as severe service.
AMSOIL also defines diesel engines with extensive engine idling and frequent dusty-condition driving as severe service.
If you are operating under severe service, please follow drain intervals appropriately. Click here for more information on AMSOIL service recommendations.
Do I have to use an AMSOIL Ea Oil Filter with AMSOIL synthetic motor oil?
No, you can use whichever brand of filter you choose and AMSOIL synthetic motor oils will still be guaranteed to protect your vehicle for the advertised period. However, you will need to change your oil filter according to the filter manufacturer's recommendations and top up the oil as required.
Since AMSOIL synthetic motor oil resists boiling off in high temperatures, do I still need to check oil level between oil changes?
Yes, it is normal for vehicles to use some motor oil. AMSOIL recommends checking your oil level every time you fill your fuel tank.
Why AMSOIL?
AMSOIL introduced the world's first synthetic diesel motor oil in 1975. AMSOIL synthetic diesel oil was formulated to outperform conventional diesel oils on all counts. It was clear from the start that this innovative product would play a major role in engine performance and engine life.
Today, AMSOIL synthetic diesel oils are synonymous with power and performance. They're tough, reliable and they withstand the devastating effects of severe-service towing and heavy hauling that destroy lesser oils. By reducing friction and guarding against wear, AMSOIL synthetic diesel oils increase fuel economy and help keep vehicles on the job, saving you money.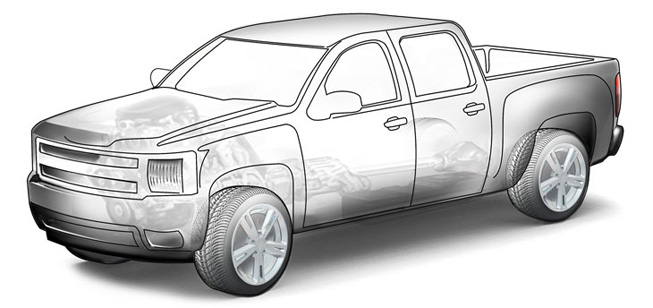 Diesel Motor Oils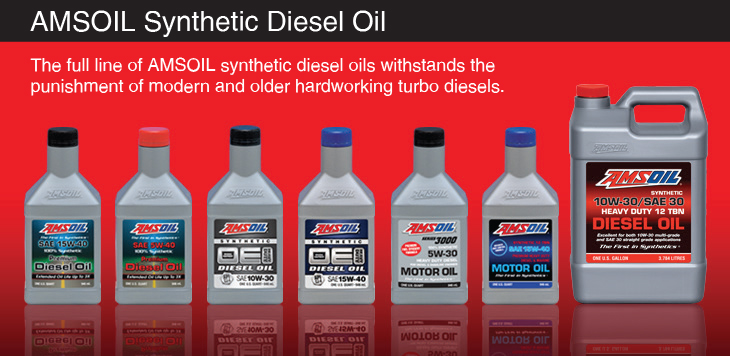 Transmission, Gear Lubes, Grease & Filters
Diesel Fuel Additives
Additional Information for Diesel Owners

Comments (1)

Share your comments
or ask a question